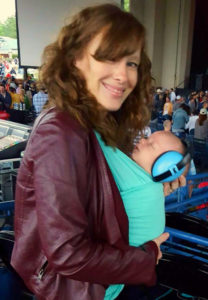 Live Music With a Baby? For me it wasn't a question. Some of my favorite forever memories have been dancing with my babies. I love experiencing it with them and seeing the joy as they notice every small note and passerby. My kids have different instruments and songs they like more than others, their own little musical personalities . They will be into playing with something, and when a the music starts playing a little bounce starts to form and they turn to look at where the music is coming from. This is the fun part of parenting for me, watching them and then letting them see things for themselves for the first time. Live music adds a way for me to connect with my kids while meeting my own needs. I am convinced to show my little ones that music doesn't just "come from" a car radio or an Ipod just as much as they should learn first hand that a carrot doesn't "come from" the grocery store.
A few tips from a pro…
Know Your Baby. Only you know your baby's temperament and needs. Some little one's thrive with loud noises and will sleep anywhere, others may need a quiet, familiar place to rest. When you are planning to go see live music or a festival with baby in tow, think about how your little one is at home before taking them to a place where your normal resources are limited. You can both "practice" at home leading up to an event with YouTube videos of the music you will be seeing. Follow their lead.
Avoid going with a large group if you can

. (If you have a large crowd, you can split up into smaller groups.) I like to go to shows with me and one child or with a few patient companions (you know who you are on my team). Sure, there may be a opportunity to meet up with friends and other families, but you won't be disappointed or discouraged with trying to meet someone when the baby just fell asleep or your toddler wants to run the other way. This is a great time to focus on their needs and I am often reminded how they are quite simple compared to some adults I have traveled with :).
Research the venue. You may be surprised at some places accommodation of little ones or appalled by how inflexible some seem to be. This is where preparing in advance is important. Check on the more obvious things like, will my baby/kids need their own tickets, is there a age limit, can you bring your own food and drinks, best parking places, is there a fun area or park to hang out before the show or if naps are needed. We are very lucky in Asheville to be close to many great family-friendly music venues and festivals. My favorite festivals every year are Merlefest and LEAF, both are big musical camps for the whole family. They are a great place to try out festivals and family camping.
Check the weather and bring appropriate gear.

Not that bad weather has to stop you from going to a show, but you won't have a good time without the right gear. Have your bag packed with extra essentials, for you and your little ones. You don't want to have to turn back for a extra pair of pants or a not having your rain gear. If it's convenient to bring extra supplies, I enjoy having a folding chair and a umbrella to keep sun/rain off my team and fun activities like glow sticks, bubbles and dress-up clothes.
Feed and hydrate yourself, as well as your team.

Everyone will have more fun and flexibility if they aren't hungry and thirsty on top of being tired and in a new place. Try and eat snacks with protein and stay hydrated by drinking water instead of sugary treats and drinks. Everyone will last longer without sugar crashes controlling the day. Look into what venues allow to bring to different events and what type of vending will be able.
How to carry your baby? No matter where you are going with your little one it will be important to have a way to carry them. There are many baby carriers and strollers to choose from. I recommend to stick with what you are used to or already have. Having a lightweight stroller and a carrier like a Moby or a Ergo/Tula can be your best friend. If you are deciding whether to bring a stroller or not, they do a great job holding everyone's stuff even if your baby doesn't need a ride. Keep in mind if it is supposed to be hot/cold and how far you will be walking to help you choose what clothing for you both to wear to be comfortable and enjoy your date with your family.
Bring ear protection. Some kids are quite sensitive to loud noises. You can get simple headphones to keep the noise at a safe and comfortable level. I purchased mine locally at The Littlest Birds.
Be flexible

. All of the other recommendations are forms of this. As with most things with babies and young children "the plan" will change a bit, like naps needed when your favorite band starts to play. Remembering you are there experiencing the music or festival with them can help keep the focus on their needs so you can enjoy meeting your needs too. Have fun and enjoy making musical memories with your family!