Pamper yourself and rejuvenate your skin with a sugar scrub. They are made by combining sugar, carrier oils and sometimes scented lightly with essential oils. They are simple to make at home and are great to use instead of soap and lotion in your daily routine. I keep a jar by my kitchen sink to scrub my hands after working in the garden or on a project with the kids. We keep another jar in the shower to exfoliate our face, neck and shoulders, belly and butt, and of course the legs and feet. My feet are always in need of a little extra attention and a foot massage with a sugar scrub is a great way to give yourself some self-care. If you are pregnant and can't rub your own feet ;-), an exfoliating foot rub is a great way for your partner or friends to pamper you and remind you to put your feet up for a minute or two.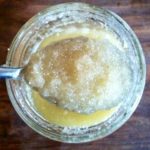 Moms want that soft baby feel to their skin too, but there isn't always the time for a strict routine to take care of our ever-changing skin. With changing hormones, varying hydration and stretching skin it's almost like being a teenager all over again for some women during their pregnancy. Even if you are "glowing" everyone can use a little moisturizing scrub. I found it helpful in relieving itchiness on my growing belly, especially in the last few months when I wondered how my skin could stretch any farther and when I was newly postpartum and feeling like I could use a little extra love.
Sugar Scrubs Are Easy To Make:
*1. Measure out the amount of sugar you want to use. (1 lb sugar-10-12 oz oil mix)
*2. Mix oil blend (I enjoy adding 25% solid or semi-solid oils like mango butter or coconut oil- warm oil before mixing)
*3. Add oil blend to the sugar
*4. Let sit awhile to make sure sugar soaks up all the oil (There should be some oil on top, don't want a dry sugar scrub later)
*5. Add essential oils for smell if you want to. I recommend adding the drops one at a time. I don't like it smelling very strong, especially if I am going to use it on my face or the thin skin of your pregnant belly. Essential oils are very concentrated and you should research them or consult an aromatherapist before using them, especially when you are pregnant or breastfeeding or using them with infants and children. Ask your doula for a recommendation for local resources.
You can make sugar scrubs easily at home and you can make a large batch with very little expenses. They are a fun to make for gifts or for your whole family to use. I like to store large batches in a mason jar until I am ready to use it. For a fun project at a Blessingway Ceremony or Baby Shower have fun with the recipe and add dried flower petals, special carrier oils and scents or get special jars to store it in. I make sugar scrubs as a easy way to pamper all of my birth and postpartum doula clients.

Sugar Scrubs Are Easy To Use:
*Wet your skin in the shower or sink.
*Spoon a generous glob of sugar scrub onto your hand, scrub intended area.
*Wash sugar scrub off with warm water. (Note: skin will feel almost too oily, this is good)
*Towel dry and enjoy your amazing new skin.